Spark started Derbyshire family death fire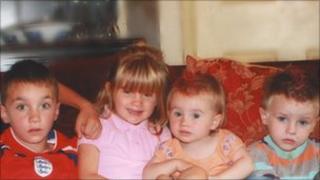 A fire which killed four children in Derbyshire was probably caused by a spark from an open fire.
Tommy Henson, nine, Alisha Henson-Nulty, six, Rocco Henson-Nulty, four, and Appolonia Henson, two, died in the blaze at Hulland Ward on Monday night.
Their 45-year-old mother, Rachel Henson, was treated in hospital for smoke inhalation.
Investigators, who had focused on the lounge area, also said there were no working smoke alarms in the property.
Police said there was no evidence to suggest the fire was suspicious.
Ms Henson, who runs Boyz barber's shop in Ashbourne, has since been released from hospital.
Floral tributes
In a short statement she said she was "inconsolable with grief".
Her sister Rebecca, 45, told reporters: "She loved her children. She was a single mum but not on benefits. She worked her backside off for her kids."
Flowers and tributes have been left outside the barber's shop and the family home on Highfield Road.
Fire service area manager Gavin Tomlinson said: "We believe this tragedy was the result of a spark or ember falling from an open fireplace in the lounge.
"Our thoughts and sympathies are with the family at this time.
"This incident demonstrates how easily a fire in the home can devastate lives.
"We would urge all home owners to carefully consider basic home fire safety measures."
A church service was held at Christ Church in Hulland Ward on Wednesday night, during which a book of condolence was opened.
Police have said they are preparing a file for the coroner and an inquest will open in due course.