Fire jury hears Buxton mother's 'screams for help'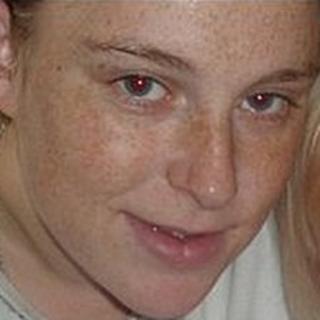 A jury has been played footage of a Derbyshire mother, who is accused of killing two of her children in a house fire, screaming for help.
Fiona Adams' daughter Niamh, five, and son Cayden, two, died in the fire at their Edale Way home last April.
Ms Adams, 23, wept as Nottingham Crown Court was shown CCTV footage of her screams as the blaze took hold.
She denies two charges of murder, arson and causing grievous bodily harm to her eight-month-old baby son.
Ms Adams had escaped from an upstairs window with the baby just before midnight on 23 April.
Prosecutor Timothy Spencer QC played the jury CCTV footage taken by a neighbour on the night.
There was no visual of the fire other than a slight reflection of flickering, but a number of bangs and cries of "help" and "please" could be heard.
Mr Spencer told the court a pathologist found the children died as a result of smoke inhalation.
The court heard Ms Adams said in police interviews she had been upstairs in bed when she became aware of her smoke alarm going off.
Thick smoke
She managed to get Niamh and Cayden into the bedroom with her, Mr Spencer said.
Ms Adams was spotted by neighbour Michelle Riley in the house as the fire took hold and she was seen dropping her youngest child from the window before jumping out herself.
Mr Spencer said the body of Cayden was found not far from the window ledge of the bedroom with Niamh close by.
Shortly after Ms Adams escaped, the children's father James Maynard arrived home from his job as a hotel barman and tried to get into the house and rescue his children.
The jury was told several neighbours and Mr Maynard's brother had also tried to get into the back of the house but were unsuccessful because of the intense fire and thick smoke.
The trial continues.