River Derwent area flooding alerts remain in place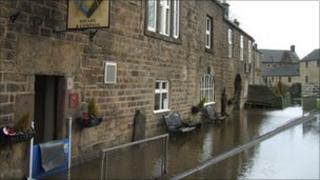 Three flood alerts remain in place for parts of three rivers in Derbyshire.
The alerts, which mean flooding is possible, apply to the River Trent at Newton Solney, the River Derwent near Rowsley and the River Wye near Burbage.
Heavy rain over the weekend affected some roads and farmland along the River Derwent.
Water got into Buxton's Opera House on Sunday, and the Square and Compass pub in Darley Bridge, near Matlock, was among the properties flooded.
More heavy rain is expected over the Peak District on Monday.
Four inches (10cm) of water got into the Square and Compass, which suffered £25,000 of damage in floods in 2007.
Landlord Mike Page said they fought hard to deal with the water.
"It started flooding at five o'clock and we started baling out as much as we could.
"We thought we were containing it but you can't beat nature if it is coming in faster than we can get it out."
At one point, there were nine flood warnings in place in the county.
Performances at the Opera House were not affected.