Street photography features in Derby's Format festival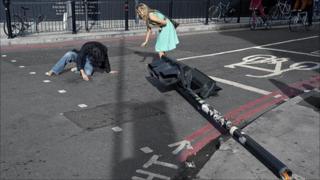 Street photography is the main focus of the Format festival taking place in Derby throughout March.
The month-long programme of exhibitions and events features the work of photographers from Istanbul to Chicago.
It is the fifth time the festival has been held in the city and this year's theme is Right Here, Right Now: Exposures from the Public Realm.
FORMAT11 includes more than 3,000 works by more than 300 artists of international significance.
Organisers claim the festival provides the most comprehensive survey of street photography ever seen.
Format features exhibitions, workshops, commissions, screenings, mass participation, talks, publications and conferences.
Events are being held at a variety of venues, including QUAD, Derby Museum and Art Gallery, the University of Derby, Derby's Market Place, Banks Mill and even empty shops around the city centre.
One entire shop on St Peter's Street has become a giant, walk-in pinhole camera.
As one of the few dedicated photography festivals in the UK, interest has come from all corners of the world.
Derby Head On
Among the exhibitions is a unique look at the people of Derby.
FORMAT11 commissioned Magnum photographer Bruce Gilden to produce a fascinating portrait of the city's people. The results, Head On 2010, will be shown at Derby Museum and Art Gallery.
And there are further opportunities for photographers from all walks of life to be involved in the imagery as organisers encourage people to submit both existing and new images to the festival.
Festival curator Louise Clements said: "We want the public to 'mob' us with their own street photography. They can either upload their photographs via the Format website or tag your photograph in Flickr."
The images will then appear in a gallery on the festival's website.
Another of the highlights of the month is likely to be a selection of work by Vivian Maier.
The Chicago-based street photographer's collection of negatives, prints and home-made films was only recently discovered.
Maier lived and photographed in Chicago between 1950 and 1970.
She rarely shared her photos with anyone else and left hundreds of rolls of undeveloped film when she died in 2009 at the age of 83.
The Format festival runs until 3 April .