Derby £100m Castleward plan unveiled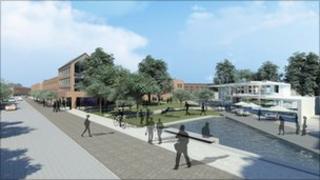 A £100m development including shops, homes and public spaces for Derby has moved a step closer.
The city council has unveiled details of the Castleward project, centred on land between the city centre and railway station.
A council regeneration fund of £10m, with £18m of private funding, will go towards the first part of the scheme, due to start in 2012.
Money from the fund will go towards buying up land in the area.
Parts of the 30-acre site, currently occupied by industrial units and car parks, are still in private hands.
Other areas have been acquired by the East Midlands Development Agency, which is being wound down, and government plans for its assets have not been confirmed.
'Sustainable community'
Phase 1 of the scheme include a pedestrian-friendly boulevard, about 70 homes, 2,500 square metres of commercial space, community facilities and a central square.
It is hoped 860 jobs could be created or safeguarded.
City council leader Councillor Harvey Jennings said: "Castleward will replace a 30-acre brownfield area of the city with a sustainable community of something like 800 homes, including extensive affordable housing, schools and community spaces.
"It will provide a fantastic lift for the city and embodies our ambition to continue to invest in Derby."
He added the £10m of initial council investment would be recouped through land sales, to be reinvested in the project.
The first round of project funding will be considered by Derby City Council's Cabinet on 15 March.
Urban renewal and regeneration specialist Compendium Living, which is developing the plans, will submit detailed proposals in the near future.