Clean-up targets drug taking at Derby park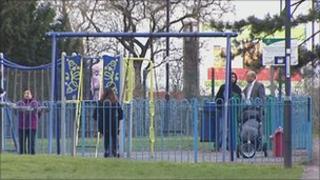 A recreation ground in Derby is being cleaned up in a bid to reduce prostitution and drug taking, the city council has said.
The area around Sherwood Recreation Ground in Normanton has been cleared of discarded needles, litter and shrubs.
City council staff and community payback offenders have cut back hedges at the rear of Balfour Road.
The clean-up means criminals have nowhere to loiter and hide, the local city councillor said.
The area has also had street lighting improved and a local electricity substation fenced off.
Normanton ward councillor Hardyal Dhindsa said: "Extensive improvement works which have taken place at Sherwood Recreation Ground have transformed a problem area back into a place the community can again enjoy.
"There are no nooks and crannies where people can hide and do things they shouldn't do."
Resident David Butler said: "My grandchildren can play on the swings and in the park but before no-one would let any children in here because of drinking, drugs and parties."