Derbyshire Methodists help copy King James Bible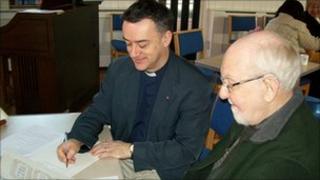 Many medieval monks laboured over their careful transcript of the Bible - and now they have unknowingly inspired modern Methodists to do the same.
To celebrate its 400th anniversary, parishioners across the country are engaged in copying out the whole of the King James edition by hand.
Each church group has been assigned a chapter.
The results will be bound in several weighty volumes to present to the Methodist conference later this year.
In his church at Brailsford, Derbyshire, Reverend Tim Morris has shrewdly combined calligraphy with coffee and cakes to ensure they complete their allotted lines.
Preserved for posterity
He has also employed the services of Scottish artist Jimmy Gibson to create the colourful bookplate which will accompany the text.
Mr Gibson has long been a resident in Brailsford, but he remembers being back in Scotland, in Burntisland Parish Church in 2001.
He was there to celebrate the 1601 meeting between James VI and the General Assembly of the Church of Scotland, where it was agreed a new bible was needed.
It would take a decade for that historic project to be completed.
Four hundred years later, the modern handwritten version will be bound and presented to the conference at Southport in July.
It will contain the writing of thousands of people, including Peter Ashworth, who was Derbyshire's coroner before he retired.
Mourning the fact that scribbling copious notes as coroner ruined his writing, Mr Ashworth said his contribution was only legible because "I took it slowly!"
For him, as for others taking part, the King James Bible has a particular attraction.
He recalls his headmaster reading from the Old Testament: "It resounded, and is something one never forgets," he said.