Bus carrying Derbyshire schoolchildren hits bridge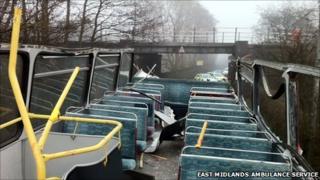 Several children have been injured when a school bus crashed into a railway bridge in Derbyshire.
The roof of the double-decker bus was ripped off on Works Road, Hollingwood, Chesterfield, at about 0835 GMT.
Eighteen children were taken to hospital, many with facial wounds. One was seriously hurt, but the injuries are not thought to be life-threatening.
The TM Travel bus was carrying about 20 children to St Mary's Catholic High School in Chesterfield.
Police would not comment on why the bus was using the route, but confirmed the matter was being investigated with the assistance of the Vehicle and Operator Services Agency.
Witness Keith Evans, who arrived at the scene soon after the crash, said the roof of the bus "was at one side of the bridge and the bus was at the other".
"There was a load of debris, children were crying, quite a bit of blood from some of the children," he said.
"We grabbed hold of a young lad who was standing by the side of me - all his teeth were missing. He had a really bad gash under his chin and blood on his head, so I got him a towel and sat him on the floor.
"There were about three or four children walking about wounded with blood on their heads."
Sheila Chamberlain, whose 13-year-old son attends St Mary's, said she was "grateful" her son had not been hurt but she wanted to know how the accident had happened.
"What was going on? A double-decker bus going under a bridge like that," she said.
School counsellors
A spokesperson for the school said the parents of all children injured had been informed.
Head teacher Sean McClafferty said he had visited the hospital and that the 18 injured children were "fine".
"A number of them have minor injuries - but we are very fortunate after having seen the scene of the incident itself - that no pupils were more seriously injured," he said.
Mr McClafferty said one student was expected to stay in hospital overnight.
"The hospital advised us that perhaps from 24 to 48 hours from now the children will be feeling the effect of the incident... so we have contacted the county council to have some counsellors at the school in the morning."
No-one from TM Travel has been available for comment.