Speed cameras in Derby permanently removed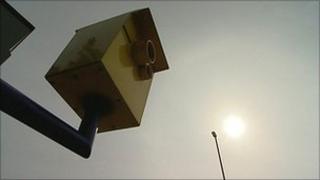 Three of Derby's speed cameras are to be permanently removed and the remaining 16 reviewed over the next year, the city council has confirmed.
The cameras being taken down are in Burton Road, Nottingham Road and Chellaston Road.
The Tory-led authority said research had shown most drivers did not speed on the three routes after the yellow boxes were temporarily covered up in 2010.
But the leader of the council's Labour opposition called the move "naive".
The authority has pledged to look at modernising road safety measures in the city.
Conservative Councillor Chris Poulter, cabinet member in charge of neighbourhoods, said: "There is a lot of information over the last few years about speeds on these roads and the indication is [speed cameras] are not working as intended."
Seventeen mobile vehicle-activated signs are being offered to neighbourhoods in the city for use on roads they deem dangerous.
But Labour councillor Paul Bayliss said: "Speed cameras were installed on these roads because there was a problem.
"Now there is no penalty for speeding, people will revert to their old behaviours.
"They can just look at the score on the doors as they pass the [speed indicator] signs."
It is estimated it will cost up to £2,000 to remove the camera housings from each location in the city centre.