Station tours to mark 40 years of BBC Radio Derby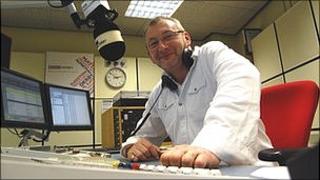 BBC Radio Derby will celebrate being 40 years old by opening its doors to the public.
On 7 and 8 May - a Saturday and a Sunday - there will be an opportunity to see behind the scenes of the BBC's headquarters in Derby and meet some of the presenters.
Visitors will have the opportunity to see the on-air studios and newsroom.
The studios are also home to the BBC East Midlands Today TV studio in Derbyshire, the BBC Derby website and the Derby BBC Big Screen operation.
The timed tours, which need to be booked in advance, take place between 1000 and 1700 on both days.
Award winner
Radio Derby editor Simon Cornes said: "Thousands of people drive past our building every day - we know many of them hear our programmes, but very few will have seen how we do it.
"To mark this milestone in our history we thought it would be nice to put that right!"
BBC Radio Derby broadcasts across Derbyshire and East Staffordshire and is one of the most successful local radio stations in England.
It is also the current Sony Radio Academy Station of the Year.
Discover what it takes to run an award winning radio station and hear a little bit of its history - including why it had to go on air early in 1971 from a temporary studio in Sutton Coldfield.
There will also be the chance to get information about other parts of the BBC plus expert advice on the digital TV switchover which takes place for Derbyshire in August this year.
To reserve places, call 01332 361111 between 0900 and 1700 (Monday to Friday only).
Places are free (limited to five per person) and will be allocated on a first come, first served basis.