Jia Ashton murder police release images of men in woods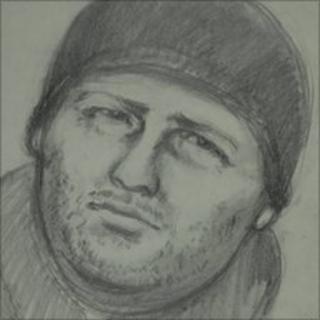 Artists' impressions of two men seen in Sleetmoor Woods on the day Jia Ashton was killed have been released by Derbyshire police.
The men, who were not together, were seen by several witnesses in the woods between 1600 and 1900 GMT on 10 March.
Mrs Ashton, 25, left the Thorntons site in Swanwick where she worked at 1700 GMT, and walked into the woods.
Her body was found there on 13 March. She had been assaulted but there was no evidence a weapon had been used.
Police said there was no apparent sexual assault.
The artists' impressions show a man in a beanie hat, khaki trousers and jacket and boots, carrying a satchel-type bag.
The second man, who was smoking, wore khaki trousers, boots, and a red top with the hood up.
'Genuine'
Detectives say the men may have had a legitimate reason for being in the woods on the day Mrs Ashton died, but that they have not yet come forward.
Det Ch Supt Steve Cotterill said: "I would urge these men to get in touch with us. They could have been in Sleetmoor Woods for a genuine reason but have been reluctant to come forward because of the nature of our investigation.
"They should come forward to eliminate themselves from inquiries and trust that they can speak to us in confidence."
Det Ch Supt Cotterill said he believes people in the community, especially those who regularly use the path known locally as the Yellow Brick Road, may recognise the men.
Forensic tests
He added: "There are joggers, dog walkers and industrial estate workers who pass through the woods every day and these images may help to help to refresh their memories.
"I believe someone in the local community holds the key for us to capture whoever murdered Jia.
"I'm particularly interested to hear from anyone who has a suspicion around someone they know who frequents the woods.
"Someone who, on the face of it, would perhaps not have a legitimate reason for using the woods like joggers and dog walkers do.
Mrs Ashton's handbag was found in the area on Saturday, and the contents are undergoing forensic tests.