Schoolboy turns profit with Dragons' Den's star's loan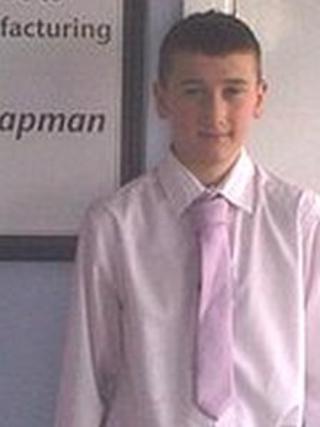 A 12-year-old Derby boy has been hailed "an inspiration" after turning a £10 loan from Dragons' Den star Peter Jones into a £540 profit.
Scott Chapman, who attends Woodlands School in Allestree, used the money to laminate a Mother's Day poem which was then sold in Sainsbury's.
He is one of the biggest successes of the entrepreneur's "Tenner Tycoon" campaign which was launched last year.
The scheme gives small loans to young people to launch their own businesses.
Scott said: "I used the money to buy some paper and a laminating machine.
"I already had a printer so I used that to print off my poem."
Since then, the young entrepreneur has named his company Happy Chappies Inc, expanded his range of greetings cards and poems and is in talks to have more of his items sold in supermarkets.
He has also been working with the Prince's Trust and Business Link on ways to inspire other young people to bring their ideas to life.
BBC Apprentice star Claire Young, who helps run the Tenner Tycoon campaign, said: "It's absolutely unbelievable.
"For all those people who think you need millions of pounds to start a business and you have to come from a certain background, Scott is the perfect example of what you can achieve with a good idea and hard work."