John Port School to become academy from 1 April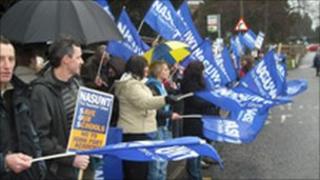 Derbyshire's largest secondary school will become an academy from 1 April, governors have confirmed.
The proposals for the 2,200-pupil John Port School in Etwall prompted a series of one-day strikes by teachers from the NASUWT union.
Members argued there was no evidence to prove the change in status would raise standards and said the effects on staff and pupils would be "profound".
Barrie Whyman, chair of governors, said it was in the school's best interests.
He said the conversion process has been a "challenging chapter in the history of the school", but added: "I hope we will all work together to ensure that the academy is as unqualified success."
John Port will retain its name, catchment area and intake numbers, the governors said.
Academies are funded directly by the government and not via the local authority, giving them more freedom over their finances, the curriculum, and teachers' pay and conditions.