Woodland closed in Jia Ashton murder investigation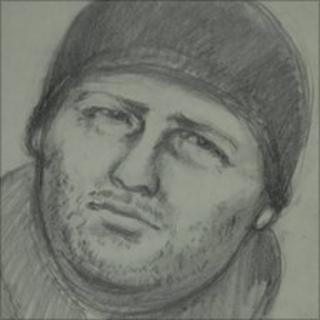 Woods where Derbyshire woman Jia Ashton was found murdered were sealed off after a reported sighting of a man police want to trace.
Detectives closed Sleetmoor Woods on Tuesday after a caller thought they saw the man depicted in a police artist's sketch wearing a beanie hat.
Officers said he was traced but "was not the man we are looking for".
The body of Mrs Ashton, who had been assaulted, was found in the woods on 13 March.
Police are still looking for the man shown in the artist's impression.
He was also wearing khaki trousers, a khaki jacket and boots, and was carrying a satchel-type bag over his shoulder.
A sketch of another man, wearing a red hooded top, was released, but officers have since eliminated him from the investigation.
Det Ch Supt Steve Cotterill said: "This is a difficult inquiry. We are continuing to explore whether or not a stranger was involved in the killing but the position is not entirely clear.
"There are still more than 90 staff working on the case and the response from the public has been very positive."
Mrs Ashton, a 25-year-old economics graduate, is thought to have been killed after leaving work at the nearby Thornton's factory on 10 March.
Police said there was no evidence a weapon had been used in the attack and there was no apparent sexual assault.