Dovedale becomes open-air art gallery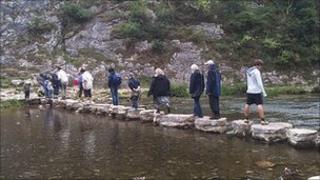 One of Derbyshire's most visited beauty spots is to be turned into an open-air art gallery.
Dovedale will feature 24 artists' views of its landscape in the 10-day al fresco exhibition from 22 April to 2 May.
The paintings include replicas of works sold at last year's Chatsworth House attic sale.
They will be placed in the landscape that inspired them together with descriptions of the work.
This is the second outing for Pictures in the Landscape, organised by Derbyshire County Council and the National Trust.
It is estimated that about 20,000 visitors to Dovedale saw last year's exhibition.
Martin Malloy, strategic director of cultural and community services at the council, said: "This exhibition gives walkers the chance to see some lovely depictions of the area and sets the area in the historical context of the Enlightenment when tourists first began to flock to it."
The pictures that will line the valley include Thorp Cloud, an engraving by J Mason from a painting by Thomas Smith of Derby in 1776.
Also featured is Henry Moore's watercolour Dove Holes, painted in the early 19th Century.
The featured pictures are replicas of works held by Buxton Museum and Art gallery.