Dozens arrested in East Midlands cross-border crackdown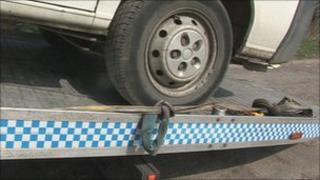 Police in the East Midlands have detained 69 people in a crackdown on criminals who try to avoid arrest by crossing county borders.
The region's police forces made the arrests during a two-week operation by setting up roadblocks at junctions along the M1 and other main roads.
Assets worth £1m were seized, including 44 vehicles and four caravans.
Operation Deny was carried out by Derbyshire, Nottinghamshire and South Yorkshire police.
The focus was on the M1 between Junctions 32 and 24 and the major A roads that intersect it.
Superintendent Gary Knighton, who led the Derbyshire operation, said: "The three forces always work closely together and we know that criminals cross county borders to commit offences."
A police spokesman said the campaign focused on house and distraction burglars and car theft.
British Transport Police, trading standards officials and other agencies also worked on the campaign.