Jewels and coins stolen in Derbyshire burglary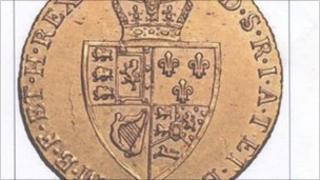 Police are appealing for information after burglars stole coins and jewellery from a Derbyshire home.
They took "unusual and distinctive" coins from a collection at a house on Harlaxton Drive in Long Eaton after forcing open the back door.
The burglary happened on April 11 while the residents were not at home, Derbyshire Police said.
The jewellery includes a diamond and amethyst ring and a sapphire and diamond ring.
The thieves also stole an emerald and diamond ring, an opal and diamond ring, a large diamond ring and a pair of diamond and pearl drop earrings.
The stolen coins included a set of 1887 Jubilee coins, some guineas and a number of sovereigns.
Inspector Tony Brittan said: "This is a heartbreaking crime for the victims. Over the years they have enjoyed collecting these coins and jewellery and are devastated by the theft of their property."
Police did not reveal the value of the estimated stolen items.