South Derbyshire's Max Raptor unleash debut album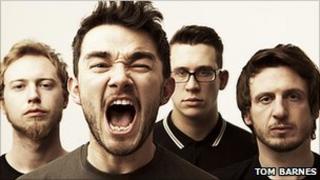 South Derbyshire's Max Raptor have released their first album following a hectic year of touring and recording.
Portraits, released on 11 April through Naim Records, follows the release of two singles in 2010.
The band said the album features plenty of riffs, hooks and "forthright narrative."
Listen closely and you might be able to detect influences including Foo Fighters, The Jam, Manic Street Preachers and The Clash.
Having supported major acts including The Stranglers, Ash, Billy Talent and Blood Red Shoes over the past 12 months, the band have had plenty of chance to hone their sound prior to recording and releasing their debut album.
"Capacity to hate"
The eight tracks touch on subjects including the decline of the British Empire and the rise of "celebrity culture".
Front man Wil Ray said: "Portraits says that from the rich to the poor to the famous, we all have a capacity to hate and do wrong.
"If we cannot celebrate that unamity in music....well I hate you all!"
The band are now heading out on a headline tour from May onwards.