Royal wedding talk 'forbidden' at Derby pub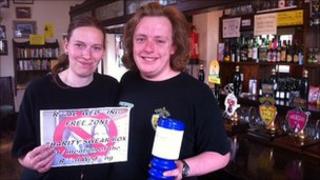 A pub in Derby has banned its regulars from talking about the wedding of Prince William and Kate Middleton.
Anyone who mentions the words "royal" or "wedding" at the Alexandra Hotel, on Siddals Road, is being forced to donate a pound to a charity "swearbox".
Landlords Ralf Edge and Anna Dyson, who are themselves marrying next year, took the decision after hearing customers complaining about the blanket coverage.
Proceeds will be donated to a cancer unit at the Royal Derby Hospital.
'Safe haven'
"We have a lot of male customers and a lot of them were coming in complaining about how much they had to listen to talk of the royal wedding," Miss Dyson said.
"They came in after work saying 'oh, this royal wedding, it's all anyone's talking about'.
"We hadn't really got any plans for the day anyway so we decided to ban it.
"We've made this a safe haven for our customers, so it's somewhere they can go without hearing, or seeing, or talking about it."
The pub has no bunting up and will keep the television switched off on Friday.
Miss Dyson added: "If anyone comes in on Friday, they won't even know there's a royal wedding.
"It's just another normal day."