Conservatives lose out in Derby as Labour gains seats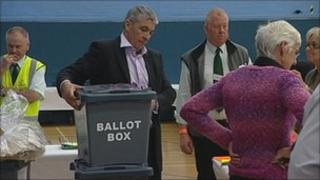 The Conservatives have lost seats at Derby City Council as Labour took 12 wards.
Labour took seats from both the Tories and Liberal Democrats but still did not win enough to take overall control at the authority.
The Conservatives won five seats and the Liberal Democrats two.
Labour now has 22 seats in a council that was previously run by the Conservatives with support from the Liberal Democrats.
The new Derby council has 22 Labour members, 16 Conservatives, 12 Liberal Democrats and one independent.
Conservative Alan Grimadell, who lost his seat in Chaddesden to Labour's Paul Campbell, said: "It will be very interesting... it looks like Labour may be able to run the council."
Green seat
In Erewash, the Tories narrowly retained control despite losing two seats, but their majority was cut to just one with Labour gaining six.
The Conservatives held Derbyshire Dales, gaining two seats while the Lib Dems lost four.
Bolsover District Council was held by Labour, which took four extra seats, while the Green Party won a seat on the council and the Residents Association lost two of their three.
In North East Derbyshire, Labour also held after gaining six seats. The Tories too gained six, but the Lib Dems lost all seven of their seats at the authority.
The Lib Dems lost control of Chesterfield, losing 23 seats, all of which went to Labour, which now has the majority.
There was no change in Amber Valley with the Conservatives retaining control and losing one seat to Labour.
South Derbyshire also remained under Conservative control. Labour won four seats and the Tories lost three.
High Peak, the last authority to declare its results, changed from Conservative control to "no overall control". Labour won 12 seats, the Conservatives lost nine and the Lib Dems lost three seats.