Police witness appeal to drivers over Derby murder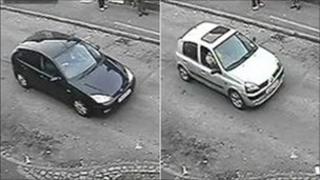 Police investigating the murder of a man on a Derby street are trying to trace two motorists.
Serioza Lawskoski, 29, was attacked in Cummings Street on 23 April by a group of five men armed with weapons. He later died from head injuries.
Officers now want to trace two drivers, who drove down Silver Hill Road at the time of the attack.
Six men, aged between 18 and 28 have been arrested in connection with the attack and have been released on bail.
The two cars, one thought to be a black Ford Focus and the other a silver Renault Clio, were seen on CCTV.
Det Supt Andrew Stokes said: "We'd like to trace these motorists, purely as witnesses, as we think they may well have seen the offending group running up the road from the attack.
"We think the men may well have run right past them at some stage. If you were one of those drivers we'd like you to get in touch."