Performance poets to make Peak District perform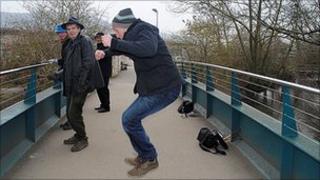 Poet Mark Gwynne Jones and his musicians in Psychicbread have been given an unusual commission.
The performance artists are spending this year weaving words and music using the sights and sounds of the Peak District.
Recording and performing on location wherever possible, they will use each landmark as an instrument in itself.
A highlight will be the tuning of the tension wires of a bridge to make it sing as accompaniment to a poem.
The poet, who has worked with the likes of John Cooper-Clarke and Will Self, and relishes offbeat approaches to art, will add to the effect by "occasionally jumping up and down hard on my heels to make the bridge boom".
"Places do have voices if you stop and listen", he maintains, quoting Sir Arthur Conan Doyle who said of the Peak District: "All this county is hollow. Could you strike it with some gigantic hammer it would boom like a drum".
As well as the bridge over the Wye at Bakewell, other locations chosen include the cable cars above Matlock Bath, the remains of a crashed B29 bomber and Peter's Stone - site of the last gibbet in Derbyshire, where executed convicts were left hanging in chains.
The group also hope to exploit the unusual acoustics under the huge viaduct at Monsal Head, and the echoing cavern known as the Devil's Arse - "blurring the boundaries between composition and location".
Mr Jones admits the enterprise takes him into the realms of the "big questions" - the province of theologians, philosophers and scientists.
Of "Sometimes They Sing", the piece written for recording on the riverbridge, he says "I was thinking of the mysteries of birth and death: where people come from and where they go."
It begins "I knew there was another room, else why the walls?" in conscious echo of Christ's words: "In my Father's house there are many mansions".
He is equally fascinated by the mysteries of quantum mechanics and the world of the unseen.
The project will conclude with two public performances - one inside Peak Cavern, and one at the Level centre in Rowsley - and a series of documentary films which will be posted on the Lyric in Limestone website.
It has been commissioned by Glassball Art Projects, a not-for-profit organisation which encourages arts practice in the Midlands.