BMW clue in Derby murder investigation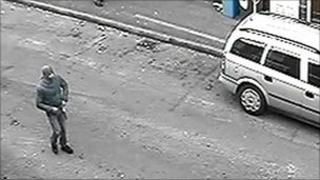 Police investigating the murder of a man on a Derby street want to speak to anyone who may have seen a BMW car in the area before or after the assault.
Serioza Lawskoski, 29, was attacked in Cummings Street on 23 April by a group of five men armed with weapons. He later died from head injuries.
It is thought the gang used a dark blue BMW 3-series car to escape.
Six men, aged between 18 and 28, have been arrested in connection with the attack and have been released on bail.
Police believe the offenders firstly made off on foot down Cummings Street, along Lower Dale Road, up Silver Hill Road and through a cut-through onto Society Place.
It is then thought they got into a BMW car with blacked-out windows and alloy wheels and drove off.
Det Supt Andrew Stokes said: "I am very keen to speak to anyone who may have seen a dark blue BMW in the area around Society Place, Industrial Street, Silver Hill Road between 7pm and 8pm on the night of the murder.
"I firmly believe that the answers lie within the local community and there are still people out there who have vital information. I'd like to thank those people that have come forward and spoke to us so far."
Police are continuing to trace the drivers of a black Ford Focus, a silver Renault Clio and black Honda Civic which were seen in the area at the time of the attack.