Bearded Theory 'breaks own record for fake beards'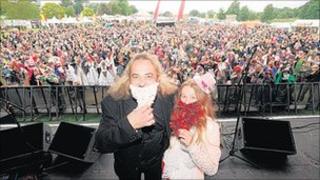 A Derbyshire music festival claims to have set the world record for the most fake beards worn at the same time.
About 2,500 people donned home-made facial hair at Kedleston Hall in Derby to beat the Bearded Theory festival's record of 1,800 which it set last year.
But organisers said they did not plan to get their feat verified by Guinness due to the "prohibitive cost".
About 6,500 people attended this year's festival, which featured The Waterboys, Athlete and X Factor star Wagner.
Each person taking part in the mass beard-wearing event signed a sheet of paper and names were then counted up at the end.
Organiser Sally Booth said: "This year it felt like the Bearded Theory family got a lot bigger. We had lots of fun in beautiful surroundings.
"Where else could you assemble 2,500 people wearing false beards in a field with Wagner from X Factor?"