Two NHS centres in Derby saved from closure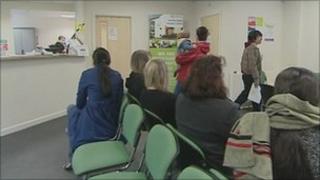 Two NHS walk-in centres in Derby have been saved from closure after health bosses responded to local opposition to the move.
Following a review of services, health bosses considered the possible closure of either the Derby open access centre or a nearby walk-in facility.
About 5,000 people signed a petition in support of keeping the centres, and health chiefs held a consultation.
NHS Derby City has confirmed they can stay open for at least two more years.
Angus Maitland, NHS Derby City Director of Strategy and Market Management, said: "We had over 2,000 responses and a petition. Our conclusions after that are that we are going to keep both centres open for a minimum of two years while we reflect further on the consultation responses.
"We're very pleased that this maintains the services in what's going to be a difficult financial time."
The Derby Open Access Centre offers local people access to a GP on a walk-in basis 365 days a year.
Aftab Rehman, who runs the nearby Pear Tree Pharmacy, said: "The sheer number of people who wrote in, who commented, have said that there's a clear need for this and I think that's hopefully swayed the situation a bit.
"And this is great news, fantastic news."