Fish taken from 'drying' part of river in Over Haddon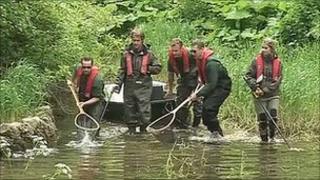 Hundreds of fish are being relocated from a stretch of river in Derbyshire as water levels recede.
Lower summer rainfall means water can dry up in a three-kilometre section of the River Lathkill in Over Haddon.
Teams use electronic fishing equipment to stun the fish before taking them to a downstream section of the river.
Fisheries team leader Simon Ward said the operation was being carried out earlier than usual this year because of recent dry weather.
Limestone seep
He said: "Generally a length of the river dries up between June and August and water returns in October.
"Brown trout then swim back upstream into the problem area in late November before spawning, and these fish, along with their offspring, are then trapped by receding water levels in the following summer.
"Because of the low rainfall over the past few months this year's rescue is about one month earlier than usual."
Water often dries up in this particular part of the river in the summer and seeps through limestone into 19th Century mines under the riverbed.
Teams stun the fish then catch them in a hand-net before putting them into a tank of water with oxygen and taking them to a section of the river that flows all year.
The Environment Agency said it would monitor the situation but has urged the public to keep a look out for problems such as fish seen gasping for air.