Ex-POW camp Christian centre celebrates centenary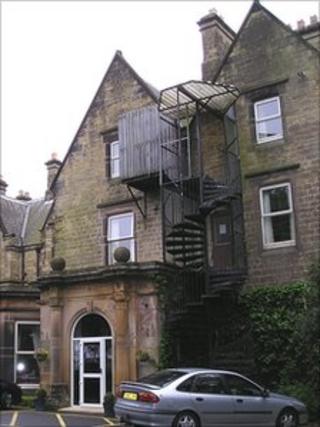 The UK's first Christian conference centre, The Hayes at Swanwick, is celebrating its chequered history.
Originally built in the 1860s by a Derbyshire entrepreneur for his daughter, it was extended and adapted for conferences in 1911.
A century on it is commemorating that reincarnation with a series of events.
Terry Waite will be among those attending a special service of thanksgiving on 27 May.
A former special envoy of the Archbishop of Canterbury, Terry Waite has a particular affinity with The Hayes.
Not only is he a regular speaker at the religious conferences, but having famously spent years as a hostage he has a certain empathy with some of the centre's previous inmates.
The Hayes was requisitioned as a POW camp during World War II, and housed both Italian and German prisoners.
Those prisoners included Franz von Werra, whose exploits as an escapee became legendary - so much so that his tunnelling out of The Hayes is featured in the classic 1950s war movie "The One That Got Away".
The tunnel, dug by POWs calling themselves "Swanwick Excavations Inc", is still intact. About 30m (100ft) long, it started in a bedroom block, ran under the perimeter fence and into the countryside.
Von Werra himself escaped from The Hayes twice, and later became the only German prisoner who actually managed to get back to his homeland after breaking out of a POW camp in Canada.
He didn't, however, survive service on the Russian Front. He was killed in action in 1941.
Visitors today are treated to tales of the Hayes' past, and invited to observe the similarity between the architecture of the centre's conservatory and the elegant lines of St Pancras Station.
There's good reason for the comparison, they are told: the house's original builder, Fitzherbert Wright, great great grandfather of the Duchess of York, was the owner of the Butterly Ironworks Company, which built both.
With almost 40,000 people a year coming to the centre, many of them, including members of the clergy, have been writing to The Hayes to offer their best wishes on the centenary.
The Archbishop of Canterbury, Dr Rowan Williams, wrote: "The Hayes has been a valuable resource for quiet reflection and recharging of batteries. I hope it will continue to play its important role in Christian life".