Buxton's 'iconic' Corbar Cross replaced after appeal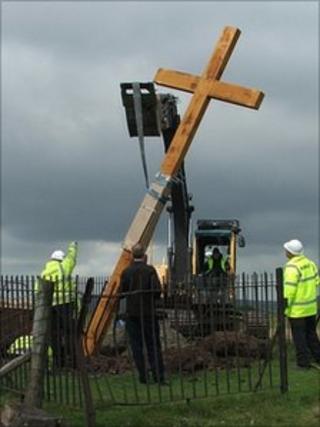 A famous Derbyshire cross has been put back in place, nine months after it was chopped down by a protester.
The Corbar Cross in Buxton, described as "iconic" was attacked during the Pope's UK visit in 2010.
Now Lancashire company Woodscape, based in Accrington, has donated a 20ft (6m) replacement cross after an appeal by church leaders.
The solid oak cross was lifted into position at the top of Corbar Hill by a local landscaping firm on Thursday.
Father Christoper Lowdon, who helped organise the replacement, said there had been a bigger response from people who did not go to church than those who attended regularly.
He said: "They have been emailing me asking me when it was coming back and today's that day.
"It's iconic. When you're driving in from the north, it's one of the things which tells you you're back in Buxton."
The original cross was given as a gift to the Roman Catholic church, by the Duke of Devonshire, to commemorate Holy Year in 1950.
Church leaders now hope to raise money for a new perimeter fence around the replacement cross.