Derbyshire bonsai firm clinches second Chelsea gold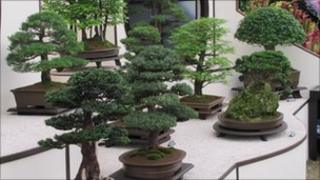 A Derbyshire bonsai tree supplier has won a gold medal at the Chelsea Flower Show for the second year running.
Derbyshire Bonsai, based in Hasland near Chesterfield, was rated "excellent" by all three Royal Horticultural Society judges.
Dave Nicholson, who has run the company for seven years, described the honour as "like winning the lottery".
He said: "It's a brilliant feeling and it does a lot to help enhance our reputation."
Mr Nicholson and his team spent three days preparing their stand in the Great Pavilion and he said he was delighted the hard work had paid off.
He said: "I think what gives us our edge is the way we stage our trees. I think it provides a real showcase for them.
"Also it's good for bonsai generally as it doesn't really receive as much television coverage as other types of horticulture."
Other Derbyshire exhibitors at the event included sculptor Rachel Carter, who put on a display of giant willow eggs, and Pachacuti, an Ashbourne dealer of organic panama hats.