Derby Toyota begins 17,000-solar panel project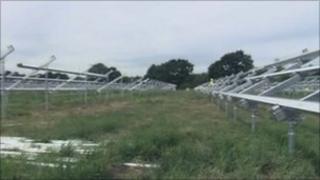 Thousands of solar panels are being installed at Toyota's Derbyshire manufacturing plant in a bid to cut bills and save energy.
The 17,000 panels will cover about 90,000 sq m (968,752sq ft), equivalent to four-and-a-half football pitches.
It is hoped the solar array will produce up to 4,600,000 kWh of electricity a year, enough to build about 7,000 cars.
British Gas is funding the £10m scheme as part of a joint project.
Work has begun to install the panels and they should start supplying power by July.
Energy 'revolution'
John Kimber, managing director of British Gas New Energy, said: "With energy costs increasing and a tough financial climate, all businesses are looking at ways to cut their bills as well as reduce their carbon emissions.
"Solar power has the potential to make this happen and really revolutionise the way Britain's homes and businesses generate energy."
Tony Walker, Toyota Manufacturing UK deputy managing director, added: "Generating solar power on-site to supply electricity to the plant underlines our commitment to do even more to further reduce our carbon footprint."
Toyota's vehicle plant currently makes the Auris, Auris Hybrid and Avensis models.