Ripley Town Hall to be sold by Amber Valley council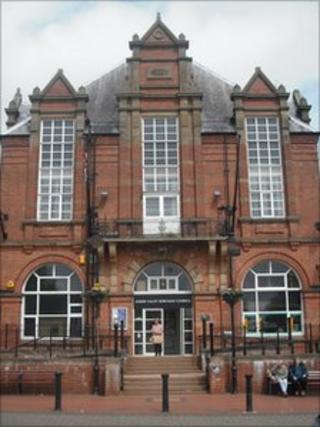 Ripley Town Hall has been put up for sale by Amber Valley Borough Council.
The authority says selling the 130-year-old building and offices next door will help it save £2m over the next two years.
But Ripley Town Council says it should be offered the building for free as it gave it to the borough council when the authority was created in the 1970s.
More than 150 people have joined a Facebook group opposing the sale, which would see 320 staff relocated.
Councillor Stuart Bradford, leader of the borough council, said he was putting the 2.8 acre site on the market because the authority no longer needed such a large building.
He said: "We're looking at any opportunity we can to save money and the current situation is that it's under-occupied.
"It's a landmark and we shall insist that once it's sold, the appearance stays the same."
Steve Freeborn, leader of Ripley Town Council, said: "Our view is the town hall should transfer back to Ripley if Amber Valley say they've got no use for it.
"Heanor kept their town hall, as did Alfreton and Belper but we transferred ours across at no cost as they were the bigger authority.
"Why we should have to pay for it now, that doesn't seem right to me."