Woods death victim Jia Ashton 'was planning family'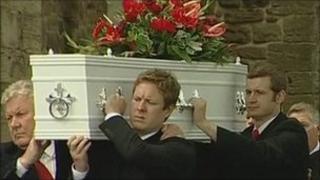 The widower of Jia Ashton has paid an emotional tribute at her funeral, saying they had decided to start trying for a family.
Matthew Ashton told mourners at St Thomas's Church in Somercotes his 25-year-old wife had wanted a baby boy.
The economics graduate went missing after leaving Thornton's head office. Her body was found in nearby woodland.
David Simmonds, 21, has been charged with the murder of Mrs Ashton, who had suffered head injuries.
She is believed to have walked into Sleetmoor Woods along a path known locally as the "yellow brick road", after leaving work on 10 March.
Private cremation
Her body was discovered three days later.
Jia Ashton's husband, Matthew, said the couple had decided to start trying for a family shortly before her death, and she was especially keen to have a baby boy.
He told the congregation of more than 100 people, that Mrs Ashton wanted a son because she joked that she had had some practice being around baby boys.
Mourners gave a small laugh when Mr Ashton told them: "Jia decided that, at last, I was almost grown up enough to have one."
Her funeral was held at 1200 BST, followed by a private cremation in Markeaton attended by close friends and family members.
Many wore red as a tribute to Mrs Ashton.
Matthew Ashton, a music teacher, played a piece by Chopin on the piano as a tribute to his wife.
He told mourners she was "priceless" and "irreplaceable", saying: "She's not simply going to heaven, she's going back to heaven."