Solvent barrels dumped in road at Uppertown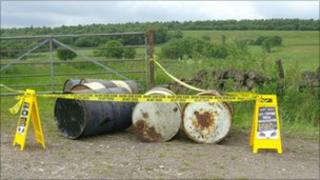 Barrels of potentially hazardous solvent have been found dumped in a rural Derbyshire road.
The six metal containers, some thought to contain methylene chloride, were left in the middle of Hodge Lane, Uppertown - near Matlock - on Monday.
A farmer raised the alarm after being woken at about 0200 BST when a Transit van was driven away from the scene.
North East Derbyshire District Council said the chemicals in the rusty drums could have leaked into a nearby dyke.
Councillor Nick Foster, member with responsibility for the environment, said: "These people have shown a total disregard for the safety of other motorists, as well as the wildlife and landscape nearby."
A council spokesman said anyone with information could contact the authority in confidence.