Films of Ripley in early 1900s found in biscuit tins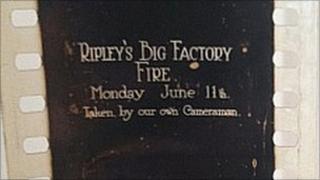 Historical film footage of a Derbyshire town has been found in biscuit tins in a garage.
The films were shot by local entrepreneur John Marshall and depict life in Ripley in the early 1900s.
The footage shows a factory fire in 1923 and people, communities and events within the town.
Kay Ogilvie, of the Media Archive for Central England, said: "They are amazing. It's a real find - our filmed heritage and a valuable record."
She added: "It's something we don't want to lose - we want to capture these moments and share them with everybody."
John Marshall was famous in Ripley for building the Hippodrome cinema and a zoo.
Chance discovery
He spent some of his time filming the people of the town and used to show his footage to cinema-goers during evening screenings.
One of the events he filmed was the destruction of the Ripley Manufacturing Company's factory following a serious fire on 11 June 1923, causing more than £50,000 of damage.
All the footage was on nitrate film - a highly flammable and unstable medium.
Some of the film became solidified during storage and it is unlikely that all of it can be salvaged.
The films had been stored in a garage by John Marshall's granddaughter, Valerie.
She contacted the Full Circle project, which seeks out old films to preserve them and make them available in modern media formats.
The find follows on from last year's chance discovery of another 1920s Ripley film showing the unveiling of the War Memorial at All Saints' Church by The Duke of Devonshire.
That film is now known to be from the same collection.
The Media Archive for Central England said it hoped the footage would be screened in Belper and in Ripley later in the year.