Derby actor Jack O'Connell to star in World War II film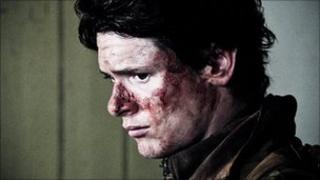 Derbyshire actor Jack O'Connell is to follow up his portrayal of Sir Bobby Charlton by playing a World War II soldier in a new film.
The 20-year-old, who attended St Benedict School in Derby, won praise for his role in the BBC drama United, about the 1958 Munich air crash.
His latest project is Shelter, an independent British film about three soldiers captured in The Netherlands.
The short movie will be completed and released later in the year.
The plot sees the three main characters sheltering in a small cottage after being separated from their company and ambushed by German soldiers.
They form an uneasy relationship with the two female inhabitants which is stretched further when two SS officers turn up at the cottage.
'Most eligible'
O'Connell, who made his name playing James Cook in Channel Four's youth drama Skins was recently named in Company magazine's list of the 50 most eligible bachelors.
He has also starred in the films This Is England, Harry Brown and Eden Lake.
Actress Lauren Socha, who also attended St Benedict School and recently won a Bafta award for her part in Channel Four series Misfits, is a friend of O'Connell's.
The pair regularly return to the school to talk to pupils about their successes.