Drinks fridge fault caused Chesterfield Royal blaze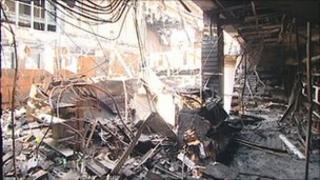 A fire which closed the emergency department of a Derbyshire hospital was caused by a fault in a drinks' fridge, fire investigators have said.
The blaze broke out on Saturday night in a newsagents in the main entrance to Chesterfield Royal Hospital.
Staff immediately closed the Accident and Emergency (A&E) department and patients were taken to hospitals in Sheffield, Nottinghamshire and Derby.
A&E has now reopened but staff warned of ongoing disruption.
Hospital spokeswoman Sarah Turner-Saint urged people to consider options other than A&E for non life-threatening conditions and minor injuries such as NHS walk-in centres and out-of-hours GP services.
"We are facing long-term disruption particularly in the main entrance, where thousands of patients book in for their appointments each day," said Eric Morton, the hospital's chief executive.
"Although we will try to ensure services run as smoothly as possible, we realise there will be some inconvenience."
From 27 June, patients attending the orthopaedic and fracture clinic will be seen on Staveley Ward and some main entrance services will move to the Scarsdale Wing entrance.
Ten fire engines were sent to the scene and it took about 60 firefighters until after midnight to put out the blaze.
The A&E reception area and fracture clinic have suffered considerable smoke and fire damage as the flames had spread through a roof space.