Chesterfield Royal Hospital fire costs 'in millions'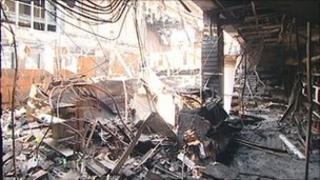 Damages caused by a Derbyshire hospital fire could cost millions of pounds to repair, a spokesman said.
The accident and emergency department at Chesterfield Royal Hospital was evacuated after the fire on Saturday evening.
No-one was injured in the fire, which investigators said was caused by a fault in a drinks fridge.
Admissions have started again at the hospital but some of its clinics have moved to new locations.
Although the exact damage caused by the fire is not yet known, the main entrance, which was severely damaged by the fire, cost more than £1m to build.
"Assessors are now the scene … [damages are] likely to be in the millions," a hospital statement said.
'Up and running'
The hospital said no appointments or operations were cancelled because of the fire.
The hospital's chief executive Eric Morton said: "It is a testament to staff that we are up and running less than 48 hours after this tragic event.
"They have worked incredibly hard to ensure temporary facilities are in place, so that patient care is affected as little as possible."
The blaze broke out on Saturday night in a newsagents in the hospital's main entrance.
From Monday, patients attending the orthopaedic and fracture clinic will be seen on Staveley Ward and some main entrance services will move to the Scarsdale Wing entrance.
Ten fire engines were sent to the scene and it took about 60 firefighters several hours to put out the blaze.