Derby band The James Warner Prophecies pen charity song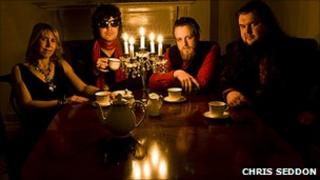 A rock band from Derby are releasing a new track to raise money for a local child abuse charity.
The James Warner Prophecies say they want the single, called Justified, to raise awareness about young people being sexually exploited in the city.
All proceeds from the track will be given to Safe and Sound, a Derby charity working to protect young people from being abused.
The single will be sold at a fundraising event in Derby on 9 July.
'Important issue'
Frontman Joe Brown said he was inspired to write the track because he and members of his family have worked in social services.
He said: "It's a very important issue which deserves to be brought to the forefront. It needs to be talked about."
"The song is about how it's easy to simply blame the young person, but you can't justify it."
The band, who have supported Supergrass and The Blockheads as well as appearing at Derbyshire's Bearded Theory festival, are asking fans to upload videos to their website pledging support for the charity.
The Safe and Sound fundraiser, which also features appearances from Derby's Whitemoor and Waking Vegas, will take place at The Old Bell, on Sadler Gate in Derby.
Last year two men were jailed for setting up a gang which groomed and sexually abused at least 26 girls in Derby.
Following this case, the first UK-wide study of street grooming of children found more than 2,000 victims of systematic abuse.