Chesterfield hospital repairs to take six months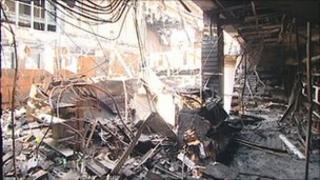 Managers at Chesterfield Royal Hospital say it will take six months to repair its fire-damaged main entrance.
Hospital spokesman Sarah Turner-Saint said demolition work and repairs will take until the end of the year.
Damage caused by the fire, which started in a fridge after an electrical fault, is estimated to be "in the millions of pounds".
The accident and emergency department of the hospital was evacuated after the fire started on 25 June.
No-one was injured in the blaze.
The hospital said no appointments or operations were cancelled because of the incident.
Ten fire engines were sent to the scene and it took about 60 firefighters several hours to put out the fire.