Derbyshire steam railway extends service to Matlock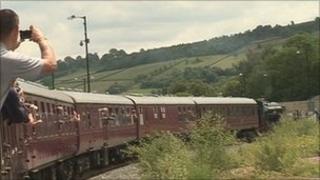 The steam train enthusiasts who operate Peak Rail in Derbyshire have started using Matlock station again for the first time since the 1960s.
The rail station at Matlock has not been served by trains arriving from the north since 1968.
The Peak Rail used to be part of an express service between Manchester Central and London St Pancras.
It will run on a 20-mile stretch (32km) of railway between Matlock and Buxton.
"We've been struggling for six years to get the train in here and the platform done… we've made it and all the documents are signed so it is wonderful," joint Peak Rail managing director Jackie Statham said.