Alvaston Tesco raid CCTV stills released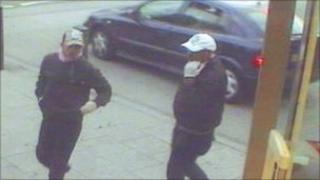 CCTV pictures of an attempted armed robbery at a Derby supermarket have been released by police.
Two men went into Tesco Express, on London Road, in the Alvaston area on 28 June and threatened a shop worker with a knife.
When the worker refused to hand over cash the suspects fled empty handed.
Officers said the images showed two Asian men, in their late teens or early 20s, and a dark blue Vauxhall Astra they wanted to trace.
One of the suspects was described as about 5ft 7ins (1.70m) tall, with short black spiky hair and a trimmed beard. He was wearing a dark coloured bomber jacket.
The second man is 6ft (1.83m) tall, had shaved hair and was wearing dark clothing. The pair were both wearing pink bandanas and were last seen running down Wye Street.