Derby to Sandiacre Canal restoration plan approved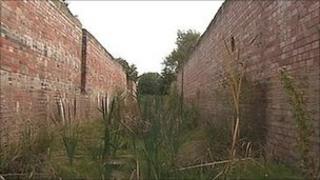 Part of a £45m plan to restore a Derbyshire canal has been approved.
Campaigners have wanted to reopen a 12.5 mile (20km) stretch of the Derby to Sandiacre Canal for more than 10 years, saying it will boost the area.
Derby City Council has now given outline planning permission for work on a seven-mile (11.3km) section from Swarkestone to Borrowash.
Volunteers said the money would be raised over years from developers, lottery funding and sale of assets.
The permission means most of the original route of the canal, much of which is currently a footpath, will be able to take boats.
'Missing out'
Chris Madge, chairman of Derby and Sandiacre Canal Society, said it had done a lot of work on how it would fund the scheme.
"By working sensibly with developers we believe they will find it in their interests to actually build sections of the canal for nothing, to give to us.
"The canal has been filled in, which is quite unusual, and we believe we can sell the soil within it and then there are the normal sources such as the lottery."
Steve Jefferys, chairman of Derby and Sandiacre Canal Trust, emphasised the canal would benefit a wide area.
"Once we did feasibility studies I cottoned on to how much value this would bring, not just to Long Eaton, Breaston and Draycott but also to Derby, with job creation.
"Derby is one of the few cities in the country without a canal. Derby is missing out."
Erewash Borough Council and South Derbyshire District Council will consider similar applications for five-mile (8km) and 437yd (400m) sections later in July.