RMT considers legal action over Thameslink contract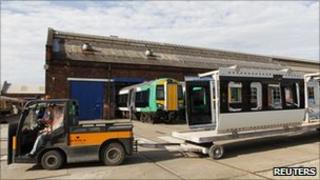 Rail union bosses said they may take legal action over the decision not to award the Thameslink contract to Bombardier.
The Derby-based firm is planning to cut more than 1,400 jobs after losing out on the £1.4bn contract to Siemens.
The government said the German company's bid offered the best value.
But the Rail, Maritime and Transport (RMT) Union said it may challenge the decision on the grounds that the local economy was not properly "factored in".
The contract to build 1,200 carriages for the new Thameslink route between Bedford and Brighton was awarded to Siemens in June.
Soon afterwards, Bombardier - the UK's last train maker - announced a review of its UK operations and said it planned to cut 446 permanent jobs and 983 temporary contract staff.
'Total mockery'
Since then unions and opposition politicians have called for the government to review its decision, but Transport Secretary Philip Hammond has ruled out such a move.
RMT leader Bob Crow said: "The failure to factor in the wider economic impact in East Midlands makes a total mockery of the government's core claim that Siemens represented best value for the British taxpayer.
"If that was the grounds for killing off Bombardier then clearly it was based on a total lie and that may be grounds for a challenge."
The union, which is now taking legal advice, will challenge the government during a meeting with Philip Hammond on Wednesday and is planning a protest in Derby on 23 July.
It has warned that as many as 13,000 jobs are at stake across the East Midlands because of the cuts at Bombardier.