Bombardier job losses to hit one family hard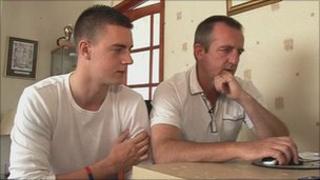 Recent developments at Bombardier are particularly worrying for one Derby family, which has three members that could be affected by the job losses.
Chris Gregory, 19, and his father Steve could both find themselves out of work after the firm announced earlier this month that it was cutting 1,400 jobs in Derby.
Meanwhile 15-year-old Ryan may find his dreams of getting an apprenticeship at the company dashed.
Bombardier lost out to German group Siemens as the preferred bidder to build 1,200 carriages for the route between Bedford and Brighton.
The setback has left the family re-evaluating its future plans.
Chris Gregory
Temporary contract worker Chris will leave the company in August. In total, the company plans to shed 983 temporary jobs.
Having assessed the job market in Derby, the 19-year-old said he would probably opt to rejoin the armed forces.
He said: "There are jobs at Toyota and JCB but there so many agency lads wanting to go for them, there's not enough work to facilitate all of us.
"Obviously some of us are going to be left disappointed."
Steve Gregory
Steve has a staff job at Bombardier. He said if his job disappeared, he may have to consider trying to find work overseas.
He said: "I've been over to Germany when I was in the Territorial Army and it's a nice enough country.
"If that was the only place I could find work then that's where I'll have to go.
"If you're in a position where you've got a mortgage and family to look after, you've got to go where the work is.
"It's bad for the country as it will lose all my taxes - I'll be paying them in Germany.
"How can our country recover when most of its skilled engineering is going to be moving to Germany, France or Spain?"
Ryan Gregory
The 15-year-old had hoped to one day join Bombardier on an apprenticeship.
After losing out on the Thameslink contract, the company has stopped taking on apprentices in Derby.
It has even cancelled 15 apprenticeships which were due to start in September.
A 90-day consultation period on the planned job losses is underway but the Gregory family, like many others in the city, are expecting the worst and making plans accordingly.