Derby Bombardier petition given to House of Commons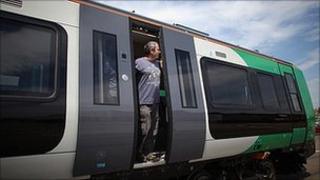 More than 50,000 people have signed a petition urging the government to reverse a decision to give a £1.4bn contract to a German train maker.
Derby-based Bombardier announced plans to cut 1,400 jobs after it lost out on the contract to Siemens.
Labour Derby North MP Chris Williamson presented the petition to the House of Commons on Monday.
The government said EU laws meant it was impossible to reverse the decision without a costly legal bill.
Prime Minister David Cameron has said the coalition would look at EU regulations to see if any changes could be made in the future but ruled out a U-turn.
Task force
Mr Williamson told MPs that "feelings in Derby were running extremely high".
"I think the citizens of Derby are hoping the prime minister and the government will take the same course of action we saw in 1971 when Rolls-Royce went bust and the government did the right thing at that time," he said.
Last month, the government awarded the contract to build new carriages for the Thameslink rail route, between Bedford and Brighton, to German firm Siemens.
At the beginning of July, Bombardier announced plans to cut 446 permanent jobs and 983 temporary contract staff.
A task force to deal with the economic impact of the job losses has started work.