Mystery gnome invasion hits Borrowash and Draycott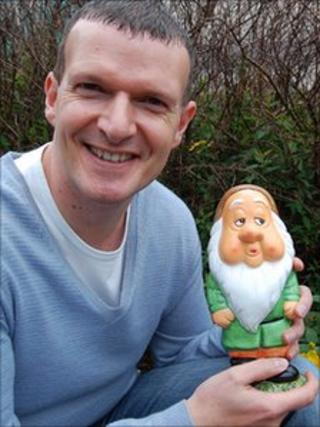 Up to 30 small plastic gnomes have invaded two neighbouring villages in Derbyshire.
The ornaments have been left overnight at homes and businesses in Borrowash and Draycott over the past few weeks.
A Facebook profile, set up in the name of a gnome called Freddie Fisher, has given puzzled residents their only clue as to who is behind the invasion.
The profile said the mystery will be explained at a later date.
Sam Whitworth, owner of the Marmalade and Tea cafe in Borrowash, received her gnome two weeks ago.
She said: "I was very excited when it arrived because so many people have been talking about it in the cafe.
"I couldn't believe I finally got one."
'Ecstatic and thrilled'
Some villagers think the person behind the prank may have links with Ashbrook Infant and Junior School as so many families there have received gnomes.
Parent Helen Townsend said: "The children were ecstatic and thrilled when our gnome arrived.
"Every morning they would run out to see if a gnome had been left because lots of their friends had already received one so they were feeling left out."
One of the latest gnomes to arrive was left outside BBC Radio Derby after the invasion was talked about on air.
Breakfast presenter Phil Trow decided to call the new arrival Derek.
On his Facebook profile, Freddie Fisher says he was born in 1979 and lists Gnomeo and Juliet as his favourite film.
His biography said he was giving his gnome friends away to other people to "educate them in social etiquette".
Freddie added that more information, including his true intentions, would be revealed soon.