Notts County's Meadow Lane back to full capacity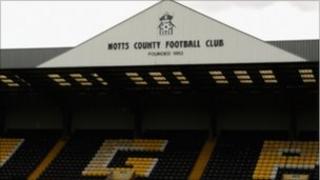 Notts County's football ground can now operate at full capacity after a safety review by the city council.
Meadow Lane had its maximum capacity of 20,229 reduced to 70% after a previous safety rating.
The council decision was made after an improvement in crowd safety procedures at the League One club.
The club's safety officer Brian Walton said he was delighted by the decision and praised the behaviour of home supporters.
Mr Walton said: "When I arrived at this club over a year ago it quickly became apparent that work needed to be done to not only improve safety standards, but also to rebuild confidence in the club within the city council.
"We can now categorically say that Meadow Lane is a much safer place for Notts County and Nottingham Rugby fans on matchdays and I look forward to seeing the stadium filled with supporters throughout the new season."
In matches where the Jimmy Sirrel stand is segregated to house home and away fans, the maximum capacity is now 19,859 and for a match where the whole stand is given to away supporters the maximum capacity is 20,229.
Nottingham Rugby also play home matches at Meadow Lane.