RSPCA Derby has 'record' number of puppies and kittens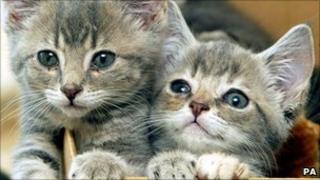 Staff at an animal shelter in Derby say people's failure to neuter their pets is to blame for a record number of puppies and kittens being abandoned.
There are currently 40 kittens and nine puppies at the RSPCA shelter on Abbey Street and staff say this year has been their busiest ever.
Supervisor Lucy Maybell said: "The economy is part of it but also people aren't getting their pets neutered.
"We hear all sorts of excuses like they didn't know or can't afford to do it."
The shelter has brought in temporary plastic crates to house the animals and is also using several foster owners.
Ms Maybell said: "There's a new arrival every day at the moment. It's been crazy.
"We're completely overwhelmed and have also had to hand rear many of the kittens which takes a lot of time.
"People need to think even harder now before they get an animal. It's not just food and vaccinations but also treatment if something goes wrong."
The shelter, which has also been inundated with rabbits this year, is now appealing for people to donate pet food.