Ilkeston's Aidan Smith, 17, hopes for Olympic judge glory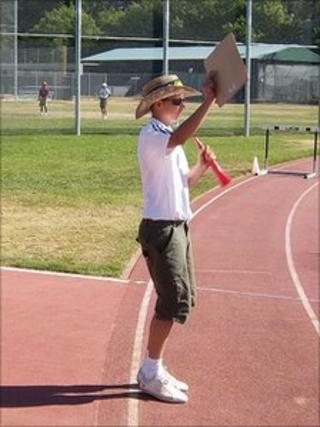 A 17-year-old from Derbyshire is aiming to be one of the youngest athletics judges at the 2012 Olympics.
Aidan Smith, from Ilkeston, has been provisionally picked to be in the heart of the action after helping to run and organise school sports events.
The Derby College student has to impress at test events over the coming months to land the role, which would involve validating field-sports.
"I am very excited but also nervous at the same time," he said.
"I am confident I will be able to do any duty given to me and give it my best."
Aidan became a sports ambassador while he was a pupil at St John Houghton Catholic School in Ilkeston and helped organise a 'mini-Olympics' involving 10 primary schools.
Ball-naming competition
If he lands a job as a field judge, he may be asked to validate a jump or throw, call up the athletes, record measurements or operate the scoreboard.
Other Derbyshire individuals and organisations also have a role to play at London 2012.
Long Eaton's Bob Ashcroft won a national competition to give a name to the ball used in the Olympic football event.
He decided on The Albert, as a shortened version of Albert Hall, cockney rhyming slang for ball.
Somercotes concrete firm Evans has helped build 15 bridges and parapets at the Olympic Park.
Derbyshire ceramic artist Paul Cummings has been commissioned to create 10,000 ceramic flowers to be displayed around the country as part of the Cultural Olympiad.
Local hopefuls such as swimmer Ross Davenport, boxer Talia Anthony and shot putter Rebecca Peake are all hard in training as their bid for glory edges closer.
Meanwhile Derby City Council and Derbyshire County Council hope the buzz around the games will encourage more young people to participate in sport.
Both authorities are to organise extra sessions and events to tie in with the Olympics, the first of which is an activity day in Derby's Market Place later, to mark one year to go.