Bombardier supporters to march in Derby over train deal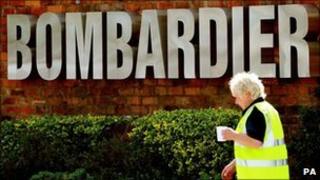 Thousands of people are expected to demonstrate in Derby later in support of the UK's last train manufacturer.
Bombardier plans to cut 1,400 jobs - just under half its workforce - after it missed out on a £1.4bn government contract for carriages.
German firm Siemens will build carriages for the Thameslink route, prompting anger from unions.
A poll of more than 25,000 adults for the Unite union showed 88% wanted the government to reconsider its decision.
On Friday Bombardier UK's chairman Colin Walton said he would be supporting the march, claiming there was still time for public pressure to make a difference.
'Loud and clear'
Unite's assistant general secretary Diana Holland said: "This is a wake-up call for the government. It's time to face facts and admit excluding Bombardier from the Thameslink contract is disastrous.
"More than 1,400 people will lose their jobs and Bombardier's future is at risk. There is still time for a rethink to save Britain's last train maker and repair this colossal error of judgement.
"Thousands of people will make their message loud and clear today - support Bombardier, support Derby, support British manufacturing."
However, David Cameron, who met with Derbyshire MPs this week, has insisted the decision cannot be changed.
The government has said it is legally bound to continue with the Thameslink project with German engineering giant Siemens as preferred bidder.
The march is due to start at Bass' Recreation Ground at 11:00 BST, moving via the Cornmarket before a rally on Cathedral Green.
Three thousand people are currently employed at the Derby facility.